QUEEN's official pop-up store "QUEEN THE GREATEST POP-UP STORE in TOKYO" will be open from 24th November to 11th December
From their first tour to Japan in April 1975 to their most recent concerts performed there in January 2020, Queen and Japan have shared an unwavering bond.
Now, to celebrate the band's recent 50th anniversary, a special concept store focusing on the enduring relationship between Queen and Japan will mark this historic landmark over two weeks 24 Nov (Thu) to 11 Dec (Sun) at a specially selected gallery, a renovated traditional Japanese house in Harajuku, Tokyo.
This project will be a spin-off of the official 'QUEEN THE GREATEST POP-UP STORE' held in London's Carnaby Street in late 2021 and early 2022, with Tokyo becoming the second city to host the event following the UK capital.
Under the banner 'JAPAN LOVES QUEEN, QUEEN LOVES JAPAN', the store is a project based on recognizing Queen's special relationship with Japan, where they toured regularly after their history-making first tour in 1975. The store will host a specially curated exhibition of photographs of the band shot in Japan with specifically created Japan-themed products for sale.
Queen's special affection for Japan has been evident across their career and in their personal lives, with guitarist Brian May composing the song 'Teo Torriatte/Let Us Cling Together' with the choruses sung entirely in Japanese, written especially for the nation's fans, and Freddie Mercury is famously known for his appreciation of traditional Japanese crafts, always adding to his collection wherever in Japan, even creating a Japanese garden at his London home.
Let's be sure to visit the concept store.
For more information on the period and other details, visit https://www.universal-music.co.jp/queen/news/2022-11-10/
"QUEEN THE GREATEST POP-UP STORE in TOKYO".
OPEN: Thursday 24th November - Sunday 11th December 2022
LOCATION: Annon Harajuku (Tokyo, Japan / 5-10, Jingumae 6-chome, Shibuya-ku, Tokyo)
OPENING HOURS: Thursday 24th November 14:00-20:00 (OPEN day) & then 25th November (Fri) - 10th December (Sat) 11:00-20:00 / 11th December (Sun) 11:00-18:00 (Last day).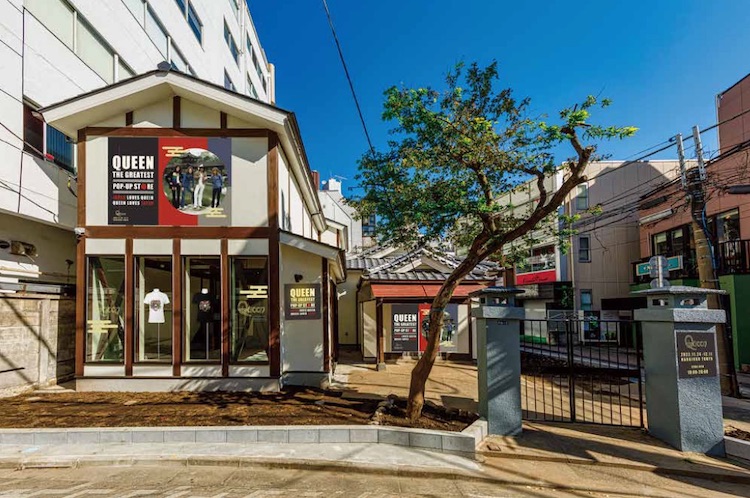 Product Examples Below: